There are a lot of stories on Tit Sin Kyun, the Iron Thread set, creating a mystic air. Some are nothing more than misconceptions and misinterpretations, partly because the Taoist holistic idea is not always easily translated into Western concepts.
This article will go into some often-heard misconceptions heard in the West and offers some references to other comparable current Western concepts.
1. The sounds vibrate the organs
Within the field of Qigong methods there is a theory that the sounds make the organs vibrate and massage them this way. It's also uttered the body is like a guitar body, resonating the vibrations of the strings. Most of us will even remember the test in physics class where hitting one tuning fork will make another tuning fork resonate and produce sound as well (resonance), and refer to this.
Although, this theory may sound very plausible at first, it also includes a huge misconception: The human voice can never reach the frequency needed to make the organs vibrate. This has been topic of linguistic research (frequency human voice: male voice around 100 Hertz, female voice around 200 Hz and kids around 300 Hz. Resonance/natural frequency of human organs is way lower: 2 – 80 Hz, depending on the organ).
Another problem is the aspect of resonance potentially being a dangerous thing rather than a healthy thing. If our organs would start vibrating due to resonance (with their resonance frequency), they would be damaged. Best example are bridges that start resonating due to wind and even collapse due to this, such as the Tacoma Narrows Bridge (now, don't worry, this won't happen to your organs, unless you are playing with sound wave weapons or working with dangerous machinery).
The point is that the theory that each different sound uses a different tone to make a certain organ vibrate, is untenable. Sure, it's an easy explanation relating to the organs being massaged, but it's just oversimplified. Of course, there are examples of sound therapy being effective, but again: this is rather in a holistic spectrum, and for a large part it's about the mental, meditative aspect.
Legendary Grand Master Lam Jou (1910-2012) practicing Tit Sin Kyun
2. Wrong sounds cause internal injuries
People are always warned to learn Tit Sin Kyun from a skilled master because else it could lead to internal injuries, as wrong sounds may damage the organs and one may vomit blood. Even though, practicing Tit Sin Kyun wrong is indeed not beneficial to the body, it's not because of the sounds.
Tit Sin Kyun can potentially be dangerous because of the forced tension-relaxation compression-type of breathing (mistakenly often called reverse breathing; see next point). Especially people with heart or respiratory problems should learn Tit Sin Kyun very gradually only, build it slow, and only under supervision or even refrain from learning this set.
In general, the clear path of the other main sets each containing a larger portion of "Iron Thread" Qigong already makes sure the practitioner is ready by the time he/she starts learning Tit Sin Kyun.
The main danger of Tit Sin Kyun is that one doesn't feel tired from practicing and one easily keeps practicing for hours and hours. This will lead to overtraining of the chest muscles and lungs. Overtraining the lungs may cause some alveoli/bronchi to burst, in which case one may cough up some blood. Now, don't be too scared: it's similar to having a very bad cold, coughing hard will make one feel very sore and occasionally an alveoli will burst from coughing and there will be some blood in the mucus.
Now, does that mean anybody can just start learning Tit Sin Kyun from Youtube? No, Tit Sin Kyun is a complex set – without proper guidance you just won't understand the set and will look ridiculous.
Grand Master Lam Chun Fai's "Iron Wire Set" Book Project – please check it out HERE
3. Tit Sin Kyun should be practiced (the same) every day
Often heard is that Tit Sin Kyun is practiced every day and the practitioner feels the benefits during the first months tremendously but then less and less. Well, if you use Tit Sin Kyun as strength training, then it needs specific programming, else the body won't respond to the "same training load" anymore. (Compare to strength training with the same weight day after day; one will not progress anymore.) The solution is actually quite simple: rest! But resting and recovering don't mean doing nothing per se.
Alternating Tit Sin Kyun with the focus on strength or mental aspect (chi, relaxing) is an idea. Thus occasionally practicing the set softer, with less tension and strength, to get the other benefits.
Another solution is periodization. Fitness researchers concluded that doing a resting week after every 3 weeks (so 3 weeks training, than doing light training only the 4th week) helps the body to keep responding to the same training load. So why not do the same with a strength set!
Just some ideas! You will have to find out yourself what the optimal training schedule of Tit Sin Kyun is for you. Maybe once or twice is even enough for you if you do a lot of other strength training and other types of Qigong.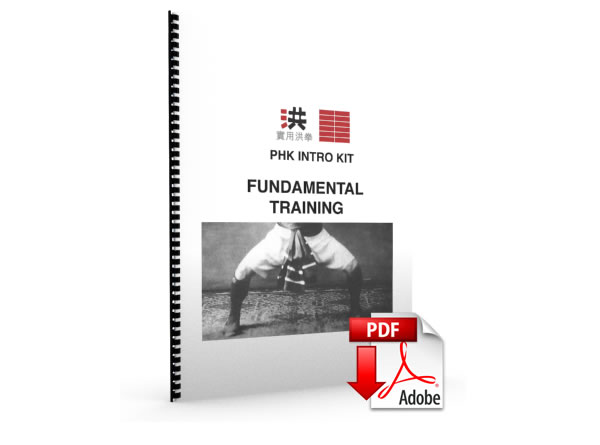 To learn the fundamentals of Practical Hung Kyun's "Internal Training", please check our the Module 1 of our PHK Intro Kit: Beginner's Guide to Chinese Martial Arts
4. Bending forward and reverse breathing
While learning Tit Sin Kyun, the student most likely will hear he/she has to bend a little and use reverse breathing. Actually there's nothing wrong with this, but many students tend to misinterpret this words.
One doesn't actually bend forward, but contracts the abs for power. This is almost done automatically by the special stance used in Tit Sin Kyun.
The head should still be up, raising the crown. One should not "search for coins on the ground" and lose structure because of that. In gymnastics and strength training this concept of "contracting the abs" for reverse/compression breathing is also known. Yet, they call it "Hollow Body". Many body weight exercises, even the plank, use the hollow body structure. So if you want to improve your strength for Tit Sin Kyun or want a better understanding, you have homework to do after you've finished reading this article. Google "hollow body gymnastics" for example.
The accompanied breathing to hollow body principle is compression breathing. In martial arts it's often called reversed breathing. But reverse breathing isn't really reverse. Sometimes people mistakenly interpret they have to expand the belly while breathing out and draw it in while breathing in. With reverse breathing one should tense the abs all the time, just while switching from inhaling to exhaling the abs will relax shortly (and just slightly) causing the belly to expand a little. This short reverse reflex explains the name. But if you want to do your homework, searching for "compression breathing" may give you food for thought.
Happy research and training. The secret of Tit Sin Kyun is training, nothing mystical about that!
Shall we go into the "12 Bridges" (Sap Yi Ji Kiu Sau) next time?
About the author: Charris van 't Slot Sifu, Hung Ga Kung Fu Utrecht. Kung Fu teacher and strength training fanatic.
If you like the article and if you want to support our work, please add your comment, click "tweet" or "like". Your support will help us and encourage us to publish and share more articles and videos in the future!
Thank you for every visit, "tweet", "like" or comment!
Upcoming Events!
No upcoming events