Grand Master Wong Fei Hung – the founder of "New Hung Kyun" (San Hung Kyun), the Man, the Legend.
Many questions and rumours surround the late Grand Master Wong: Did he really learn from Luk A Choi as a boy?
Did he fight with Leung Jaan or Chan Wa Seun of Wing Cheun clan?
One and same question however bothers generations of Hung Ga practioners and movie fans for years most – how did real Wong Fei Hung look like? Is there any surviving photo of the legendary Grand Master?
Practical Hung Kyun research will finally answer this question for once and all!
So how did Wong Fei Hung look like? The author of one of the few available interviews with Wong Fei Hung's wife, Madame Mok Gwai Laan, writes:
"According to Madame Mok, Wong Fei Hung had rather queer features. He looked like the legendary God of Longevity, with large and long ears and long eye-brows which resembled those of the Buddhist "Lohans". He was of very sturdy build. However, he was very kind-hearted and was all smiles all time."
"Wong was once with the civil service," related Madame Mok. "He was appointed the chief kung fu instructor and army physician by the Admiral of the Ching Goverment. The Admiral gave him a photo of his which was taken in full official uniform. Wong hung the photo on the main entrance to his residence… "
(Real Kung Fu Magazine – you can download the whole interview in the 3rd part of our Legendary Grand Masters of Hung Kyun series).
[amazon_carousel widget_type="SearchAndAdd" width="600″ height="200″ title="" market_place="" shuffle_products="True" show_border="False" keywords="Wong Fei Hung" browse_node="" search_index="All" /]
However, as we know, all Wong's family property and photos were destroyed when Bou Ji Lam burned down during the Gwong Jaau Merchant Corps Rebellion in 1924. Did any of the photos miracously survived?
In 2000, Leung Ting Sifu (Wing Tsun) has published a 4th part of his Wing Tsun Story series following picture:
Translation of the text under the photo:
"In 1976, Leung Ting helped a friend to collect some information for magazine Real Kung Fu. So, he visited Mrs. Mok Gwai Laan. Not only did he receive information there, but also a real photograph of Wong Fei Hung. Due to many problems this photo could not be shown until today, in this book."
(Important to note – "until today" means 20 years after the death of Mok Gwai Laan Si Taai.)
What a discovery! The photo was subsequently used by many masters and practioners around the world, even the Fat Saan Wong Fei Hung Museum, so it must be the real Wong Fei Hung, right? Last but not least – this photo of Wong Fei Hung it is featured on Wikipedia.
Ladies and gentlemen, sorry to dissappoint you – it is not Grand Master Wong Fei Hung, but his fourth son, Wong Hon Hei – firmly confirmed by many elders of the Hung Kyun family, eg. Grand Master Lam Jou, Grand Master Chiu Wai, Grand Master Lei Chan Wo (disciple and heir of Mok Gwai Laan).
From an Official Statement of Grand Master Lei Chan Wo (disicple and heir of Mok Gwai Laan)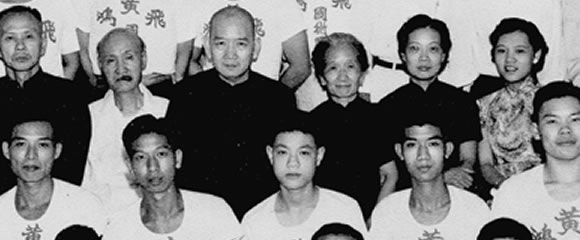 Wong Hon Hei and Mok Gwai Laan, 1953

Mok Gwai Laan  and Wong Hon Hei at Wong Fei Hung's Birthday Anniversary Celebration, August 23rd, 1958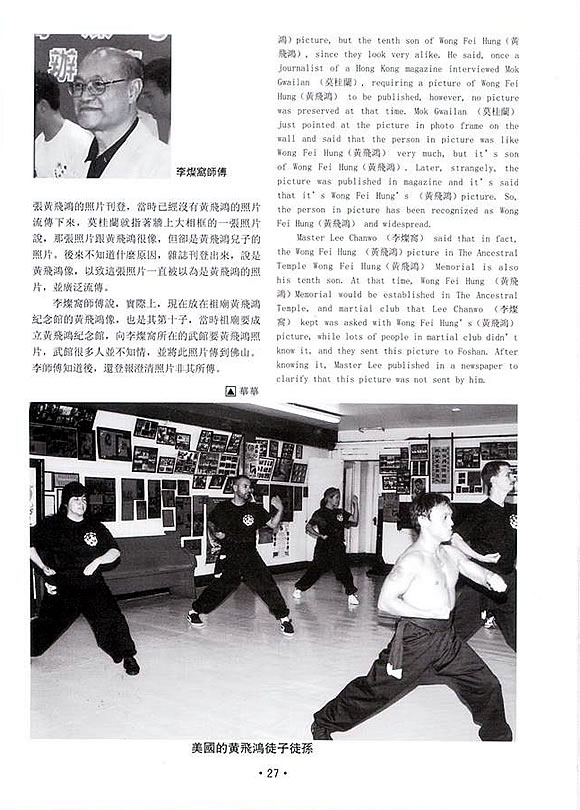 Article form New Martial Hero, 2009, No. 21, clarifying the misconception of Wong Fei Hung's Photo
Please pay your respects your elders, but do not spread false information and do our research; already too much fairy-tales surrounding our art. Let us keep it alive and real – this is one of the aims of Practical Hung Kyun, both in theoretical research and practical application.
More and more rare photos, manuals and manuscripts are appearing every month – we have assembled many of those during our research trips in Hong Kong and China and will publish them at our webpage. Real Wong Fei Hung's photo still waits to be discovered.
PS: Our Man Mou (Scholar-Warrior) Publishing department will publish soon a book of stories of real Wong Fei Hung, written by his grand student Jyu Yu Jai – coming soon, please stay tuned and watch our Newsletter, Facebook page and Twitter for more info!
If you like the article and if you want to support our work, please add your comment, click "tweet" or "like". Your support will help us and encourage us to publish and share more articles and videos in the future!
Thank you for every visit, "tweet", "like" or comment!
Upcoming Events!
No upcoming events