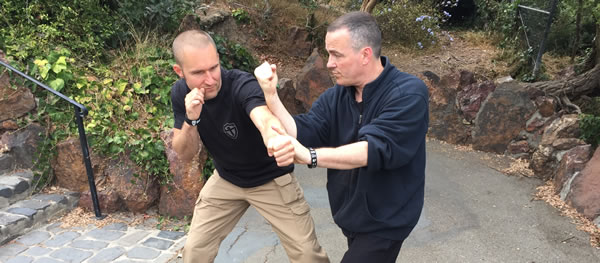 Usage of 3 basic kicks, rear Ping Cheui analysis, Saan Sau Bin Fa drills, Tit Sin Kyun's combat applications, practical usage of 2-man sets, and more and more – I learned so much just in few hours with my Si Hing Michael Goodwin Sifu of The San Francisco Hung Gar Kung Fu Association.
Watch an excellent interview with Michael Goodwin Sifu, my good friend and in my opinion the best non-Chinese Hung Ga Kyun master out there. Throughout the years I have learnt so much from him and I hope I will learn more of his practical skills in the future.
My Si Hing says:
In this interview I recommend today's instructors focus more on basics, less on added material, and take advantage of self-protection scenario training and competitive sparring models, to keep Hung Kyun/ TCMA skills viable, not permit the art to disappear into pre-arranged forms practice.
Interview with Michael Goodwin Sifu of San Francisco Hung Gar Kung Fu Association
Please check out The San Francisco Hung Ga Kung Fu Association webpage, official Facebook fan page, contact Goodwin Sifu on Facebook or by phone (415) 574-9433.
Michael Goodwin Sifu is available for private lessons, semi-private, small groups, classes, and workshops in USA/ abroad.
If you like the article and if you want to support our work, please add your comment, click "tweet" or "like". Your support will help us and encourage us to publish and share more articles and videos in the future!
Thank you for every visit, "tweet", "like" or comment!
Upcoming Events!
No upcoming events